Skip to Main Content
It looks like you're using Internet Explorer 11 or older. This website works best with modern browsers such as the latest versions of Chrome, Firefox, Safari, and Edge. If you continue with this browser, you may see unexpected results.
Sources for Keeping Up
RSS feeds what is an RSS and how do I set one up?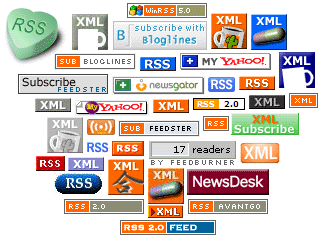 These icons are the standard for indicating an RSS feed.

When you see any of these icons on a site you wish to subscribe to, simply click on the icon.
Image courtesy of the RSS Advisory Board
American Board of Internal Medicine (ABIM) Lists
United States health care provider organizations representing more than one million providers developed lists of Things Physicians and Providers Should Question in recognition of the importance of conversations to improve care and eliminate unnecessary tests and procedures.
Physician Patient Lists

Lists that are designed to spur conversation about what is appropriate and necessary treatment. Compiled by ABIM.
PH Partners- What's New
Click on "View Feed" for more public health news. News stories are listed in alphabetical order.